Whachu talkin bout, Wilshire?

"Santa" Harmonica?
What's sacred about a bluesy mouth instrument?
And summer, that's a happy time, no scars!

Well, Santa Monica and its bay ring some of the California dream's most famous beaches.
The harmonies of summer are perhaps synonymous with Santa Harmonica and its pier.

And like Dali's clocks melting over the Palisades onto Pacific Coast Highway, our summer reveries -- they are the persistent memories of youth.
These remembrances are gentle scars, tribal adornments stenciled on skin, neuron tattoos that linger forward.
Beach breezes, tanning on restful sand, refreshing swimming and surfing, all to "the" music. The Beach Boys, Jan & Dean enveloped us in social anthems:
"Everybody's gone surfin' Surfin' USA..."
"Two girls for every boy! Surf City, here we come..."

"I guess I shoulda kept my mouth shut when I started to brag about my car.."

"I'll do ya one better if you've got the nerve, let's race all the way to Dead Man's Curve."
When we weren't believing and singing along, we swam in the bold guitar instrumentals of Dick Dale, the Ventures, Safaris, Chantays. We worshiped in the temple of twang.

As Los Angelesians, we rode to "the beach," Santa Monica, Sorrento, Will Rogers, the broad nexus of sandy soil, ocean and sky.
How universal was this yearning? Well, the film "American Graffiti," a grad night teen melodrama, was staged in Modesto, 300 miles from the shore. Yet the film's closure was marked by the exuberance of the Beach Boys': "Tshirts, cutoffs and a pair of thongs, We've been havin' fun all summer long."
"The beach" touched even California's Central Valley.
~~~~~~~~
So what did "the beach" mean to you? For me, its was and remains an iconic reference point. In particular I dwelt on the beaches from Santa Monica northward, including Sorrento, Malibu to Zuma beyond Point Dume. I also loved to drive the serpentine roads that ascend the Santa Monica Mountains, affording vast views of the Bay's splendor.

Incidentally I spent time on Venice and Torrance-Redondo Beaches as well.

Santa Monica's famous broad sandy shore was not always destined to be the famous hang-out it became. At one time (1876) powers in the SM Bay area were pushing to have it become a focus of shipping, desiring it to be designated Los Angeles's port. At Will Rogers beach below Santa Monica Canyon there was actually a pier almost a mile long, the "Long Wharf," aka the "Mammoth Wharf," in deference to its 4,700' protrusion into the bay. It was served by a a dual Southern Pacific railroad line that ran through the McClure tunnel and below Palisades Park, prior to the coast automobile route; later famous California Hwy 1 was paved over these tracks. The length was needed to allow coal to be offloaded. During its lifespan protruding monumentally into Santa Monica bay, the massive pier was dubbed "Port Los Angeles."

But the politicians chose San Pedro as eventual location for the Los Angeles region's harbor. If they had not, Santa Monica beaches would not have evolved into the recreational mecca that we know; it would have become like many beaches near industrial shipping ports: dingier, and not the pristine playground we see today.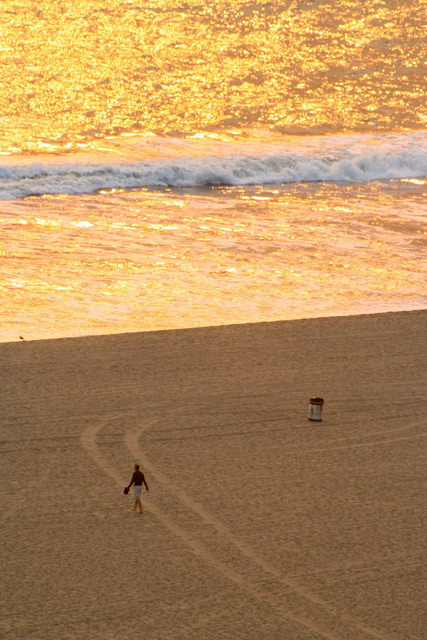 © 2001 Robert Peoples

The wealthiest, most famous celebrities would never have developed the mansions just north of Santa Monica's smaller, surviving, recreational pier. This row of elite houses was dubbed "The Gold Coast." The sense of the wealthy elite also was evident in the Jonathan Beach Club, just below the California Avenue Incline.
How major is the beach? Well, the California Coastal Commission's chief mandate is to assure public access to the beach and ocean, even when it means building pathways next to million dollar mansions, all to assure that average citizens can enjoy the wave zone (providing they don't wander on to private property, which is usually heavily gated now any way).
No American fantasized about visiting Portland's or Seattle's prolonged months of gloom, but the Mama's & Papa's California Dreamed On such a winter's day" of returning to L.A., while Randy Newman rhapsodized in "I Love LA" about leaving rough and dismal Chicago, "turning up the beach Boys, and rolling down the top."
Beaches harbor amusement parks, and in Los Angeles there were many, including Pacific Ocean Park, south of the Santa Monica Pier, and within the SM City limits. This park did not need to borrow Disneyland's thunder, because it possessed one ingredient that the Anaheim extravaganza could not: rides above a real ocean.

The beach is nature at its simplest, most accessible. Among the lifeguard towers, below the moon, I became familiar with the tides, and with the lunar phases that drove their ebb and flow. At flat Santa Monica's broad beach, the rhythms of the tidal extremes were dramatically displayed, sometimes receding a hundred yards offshore, exposing strange ponds that would survive merely hours, and then surging inland, flooding sand that rarely was quenched.

The beaches of California suggested a never-ending sunny resort, a perpetual vacation, decorated by the allure of bikinis and tanned, muscular emerging men, perennially riding the apex of the wave of youth.